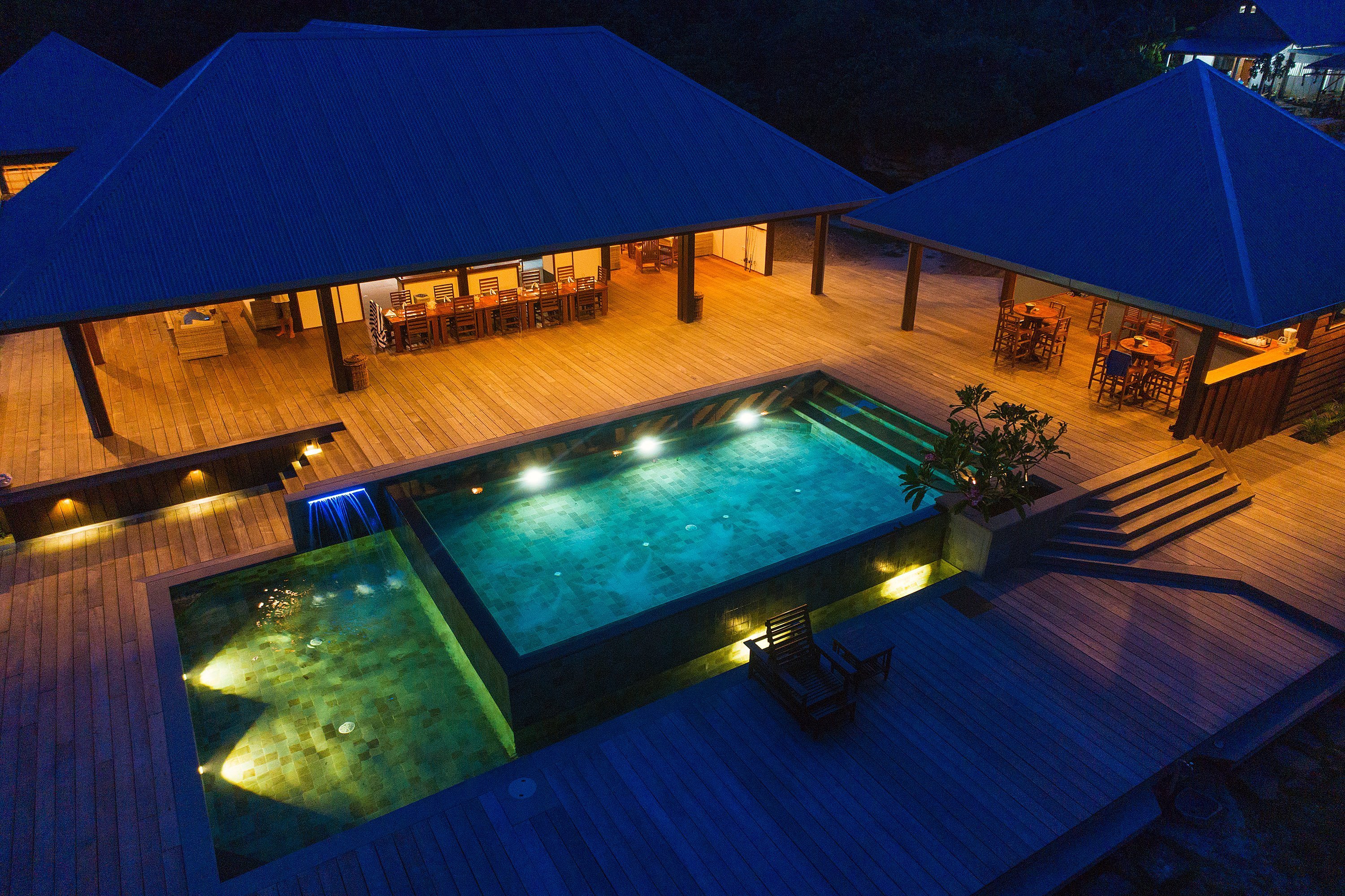 Pinnacles on Telo features eight private air-conditioned bungalows (each with a king-sized bed and two day beds) and ocean views from every point in the room.
Designed by San Francisco's highly regarded BAR Architects firm, all rooms feature air-conditioning and en-suite facilities.
Rooms are serviced twice daily, with complimentary laundry service.
Importantly, we, along with Telo Island Lodge are the only surf lodges in North Sumatra with a tsunami escape zone just meters from the main building, ensuring a level of safety not available in any other surf tourism facility in the region.
The cuisine at Pinnacles on Telo has been tailored to provide an authentic Indonesian culinary experience while providing fresh, healthy nourishment
Meals are all-inclusive – with the exception of alcoholic beverages – available for purchase of course!

Our Chef and his staff have a suite of unique, signature dishes at the ready. He and his crew are also able to provide a menu based on any dietary requirements requested prior to arrival.
Our guest concierge will contact you prior to the trip to personalize food and beverage needs so no detail is overlooked. 
Meals vary between buffet and table service, shared in the company of other guests. Feel free to dine in the dining room or one of the al fresco areas of the resort. And be sure to save room for dessert!
FULL SERVICE SPA
Whether you're the less-salty partner of a keen surfer, or are on a mission to catch a million waves, Pinnacles on Telo's range of Spa services has something worthwhile in store for you.
From robust deep tissue work on weary shoulders to hair, beauty, nails and relaxation massage treatments, we guarantee that every guest will emerge from our Spa offerings feeling really quite good about life.
One of the unexpected joys of Stand Up Paddleboarding is the view you get from the standing positon. As opposed to kayaking, you not only see further beyond, but also get a great perspective directly below you, as the ever-changing colours of reef, sand and sea life glide beneath your board.
The physical benefits of SUP are well known – it's basically a "Full Body Workout" machine – but unlike those contraptions they sell on late night infomercials, these actually work!
Most likely, fishing isn't the primary reason you've come to Pinnacles, which makes the quality of the fishing on offer all the more notable.
No need to bring your own fishing gear, we've got you sorted – and we'll even take care of the messy stuff.
Even in the short time Pinnacles has been open, more than one guest has already come away with the fish of their lives.
For all the natural beauty that Pinnacles on Telo's surrounded by: the tropical sunsets, swaying palm trees, white sandy beaches etc, it's only half the story.
The other half of the story exists below the waterline. A silent world of greens and blues, where gravity barely exists and creatures of all descriptions go about their fishy business.
Access to this remarkable world is simple. Mask, snorkel, flippers – and you're off.
It would be a shame to come to this unique and friendly part of the world and not experience the locals' way of life. An extremely fun way to do this is to take one of our patented Telo Village bike tours!
Basically, we'll lead you on a bit of a rally around the principally populated island a 20 minute boat ride away.
There's something about getting around on the ubiquitous Indonesian form of transport – the mighty scooter – that makes it easy and fun to connect with the locals – especially the kids. and you'll get to see everyday village life as a participant, not just an observer.
Smiles and laughs guaranteed.
Prefer to leave your boards at home? We've got you covered.
Want to bring your board, but try out some different shapes & sizes? We've got you covered.
Pinnacles is equipped with a comprehensive quiver of …Lost Surfboards for you to rent while you are here.